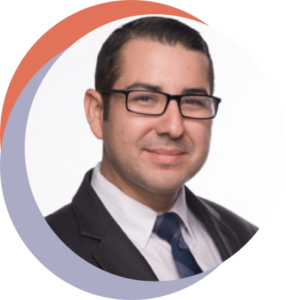 "AS TALENTED PEOPLE, WE SETTLE FOR UNFULFILLING JOBS BECAUSE WE'RE WIRED TO TOLERATE WORK INSTEAD OF BEING ACCOUNTABLE FOR OUR HAPPINESS."
-Juan Kingsbury
Juan Kingsbury is an expert in administering and debriefing a variety of assessments for Leadership Resources. His extensive knowledge as well as his facilitation skills, combine to provide clients with superior insight and learning about themselves and their team. Juan also helps clients benchmark jobs to know exactly what is needed for superior performance.
In 2007, Juan founded Career Blindspot, specializing in workplace fulfillment and matching professionals' talents and goals to their careers. Juan helps managers find and retain the right talent through his experience using a set of competencies, tools and a proven method to recognize value.
He assesses thousands of employees and potential candidates in a variety of roles (entry level, sales, executive level), for an average of 50 companies annually. Executive and department leaders work with Juan to salvage or prevent "square peg in a round hole" situations, re-frame value and align managers and their employees with workplace fulfillment goals.
Additionally, Juan lives in Phoenix, AZ with his wife Courtney. He earned his Bachelor's of Global Business at Arizona State University.